Biography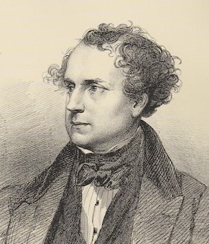 Waldmüller (portrayed by Josef Kriehuber)
Ferdinand Georg Waldmüller, the most important Austrian painter of the Biedermeier period, was born on January 15, 1793 in Vienna. His father, who himself had sought in vain a career as a painter, died in 1806 leaving the family in poverty. His widowed mother was opposed to Waldmüller's desire to become an artist nevertheless at the age of 14 years Waldmüller enrolled at the Academy of Fine Arts in Vienna.
Like his classmate Josef Kriehuber, Waldmüller was soon specializing in portrait painting though his first exhibit was in realistic floral watercolors and miniatures. He educated himself through private contacts and was largely self-taught.
In 1814 Waldmüller married the singer Katharina Weidner and they had three children. He accompanied Weidner on professional engagements that brought the couple to Baden, Brno, and Prague during which time he worked as a theater decorator and portrait painter. In 1822 the marriage ended. They reconciled temporarily in the 1830's.
When his marriage ended in the 1820's Waldmüller turned to painting in oil. The drawing teacher Johann Nepomuk Schödlberger encouraged him to paint landscapes and this resulted in nature studies and genre painting. He also worked on copies producing works in the style of Correggio, Teniers, Ribera and others. He also painted portraits including one of Ludwig von Beethoven. Waldmüller became more and more self-confident in his painting style.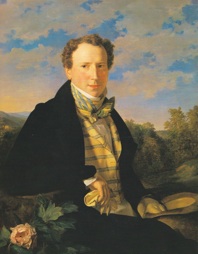 Waldmüller in a self-portrait from 1828
In 1825 the painter traveled for the first time to Italy, initially to study the old masters. Waldmüller returned to Italy almost every summer for the next 20 years. He also travels yearly to the Salzkammergut where many of his most famous works are created.
In 1829 Waldmüller was given the position of first curator of the painting collection at the Academy of Fine Arts. He was simultaneously teaching but was forbidden by the Academy to give private lessons at the Academy. His relationship with the Academy was strained in the 1930's due to this.
Over the next 40 years Waldmüller paintings were increasingly genre subjects including many multi-figure genre paintings that for he is known for today. His handling of space and light was remarkable; his intense realism met with repeated criticism from contemporaries.
In 1846 Waldmüller criticized in writing the Academy's teaching methods as well as the painting collection itself and the dispute was made public through newspaper publication. His studio in the Academy building was taken from him and the private instruction of 30 students, conducted at the Academy was forced to end.
Even during the censorship, before the Revolution of 1848, Waldmüller's subject matter turned to social issues including of poverty and misfortune. Rejecting the typical Biedermeier idyll of the time Waldmüller especially addresses everyday farm life with a socially critical attitude.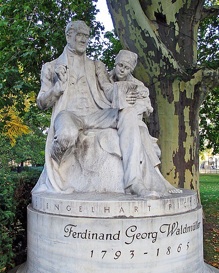 The Waldmüller memorial in Vienna's Rathauspark
In 1850 Waldmüller got married again to the 25-year old Anna Bayer for whom he set up a fashion salon. By this time, he faced serious financial difficulties: his salary hadn't increased in decades and he made a fraction of what his colleagues at the Academy earned.
Waldmüller's international recognition came late in life. In 1855 he participated in the World Exhibition in Paris where he sold all of his exhibited paintings including one to Emperor Napoleon III. A year later Waldmüller was invited to exhibit in London at Buckingham Palace where Queen Victoria and Prince Albert purchase two paintings.
In 1857 his next pamphlet, again denouncing actions of the Academy, forced early retirement at half pay. Waldmüller tried, unsuccessfully, to rehabilitate his reputation. He organized an auction of his works but it was not successful. The Emperor, in 1864, raised his pension a little but did nothing to redeem his reputation which left Waldmüller very upset.
Ferdinand Waldmüller died on August 23, 1865 in Hinterbrühl near Mödling. His students organized a memorial exhibition at Vienna's "Kunstverein". The painter, however, was only rediscovered and appreciated three decades later.
Waldmüller's aesthetic implementation of sunlight and his detailed representation of human faces are what make his paintings distinctive and brought him internationally acclaim.